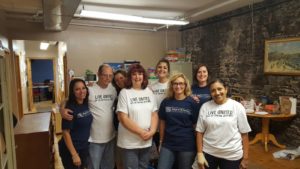 We are pleased you are considering joining our dynamic, compassionate and committed team of volunteers who help make New Hope's work possible. Every day, New Hope relies heavily upon the generosity of people who share their time within our offices and in our programs– providing a collective donation of thousands of volunteer hours each year.
We offer short and long-term volunteer opportunities and internships. These include working directly within our programs (hotline, shelter, court-based advocacy, hospital-based advocacy, support group facilitation), working externally in the community by assisting with awareness and fundraising events, serving on event planning committees, as well as providing administrative support in our offices.
Our current Volunteer and Internship openings are listed below.
Development/Marketing -Volunteers / Interns
Administrative support
Assist with computer-based research and data-entry
Assist with marketing projects (social media, website and non-tech functions)
Community outreach (ex. hang signs for upcoming events)
Special event volunteers (Gourmet Guys and more!)
Hotline/Community Based Intern
Answer domestic and sexual violence calls; provide support and referrals
Provide support for community based clients by assisting with safety planning
Assist community based clients with obtaining resources to help them live safer lives
35 hours training/ Interns – commitment of 3 months required
SAFEPLAN Court Advocate
Support Clients as they go through the court process of obtaining restraining and harassment orders within the Attleboro and Taunton District Courts.
Provide resources and safety planning.
Daytime hours
Additional training required.
SANE (Sexual Assault Nurse Exam) Advocate (On Call)
Support Sexual Assault clients in the Emergency Room during a forensic Sexual Assault exam.
This role involves being on call for short, specific periods of time and going to the hospital if a Sexual Assault survivor requests accompaniment and support by a New Hope volunteer.
Some additional training required.
Shelter Advocate (Southeast and Central MA)
Answer domestic and sexual violence calls; provide support and referrals
Assist staff with shelter duties such as meal planning
Provide administrative support as needed
35 hours training/ Interns – commitment of 3 months required
Additional Requirements: All potential volunteers must go through a screening interview/application, CORI/reference check and **must attend our Domestic and Sexual Violence Pre-Service Training.  (**With the exception of Development/Marketing)
Volunteers must be 18+ years of age and have own transportation.
Some additional training may be required, depending upon the specific duties of the position.
If you are interested in a Volunteer Opportunity or Internship, please contact us via email:  development@new-hope.org
Thank you for your support. We look forward to working with you soon!
"Volunteers are seldom paid, not because they are worthless, but because they are priceless!"
Author Unknown