New Hope serves 41 communities within Central and Southeast Massachusetts.
In our Central region, we provide domestic violence services.
In our Southeast region, we offer both domestic

and

sexual violence services.
We have two offices in our Central Region (Milford & Worcester) and two in our Southeast region (Attleboro & Taunton). Click here to view a map of our service area.
Main Office
247 Maple Street
Attleboro, MA 02703
Phone 508-226-4015
Fax 508-226-6917
RESPECT (Intimate Partner Abuse Education Program) 877-222-0083
Please send all general email inquiries to new-hope@new-hope.org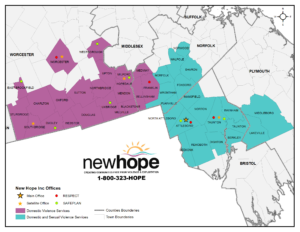 Satellite Offices
Milford
By Appointment Only
1-800-323-HOPE (4673)
Southbridge
By Appointment Only
1-800-323-HOPE (4673)
Taunton
By Appointment Only
1-800-323-HOPE (4673)
Worcester
MJ Leadenham Center (Supervised Visitation & RESPECT Program ONLY)
22-24 Park Avenue
Worcester, MA 01605
Phone 508-753-3146
Fax 508-753-3148
RESPECT (Intimate Partner Abuse Education Program) 877-222-0083
District Court Advocate Locations
Attleboro District Court
88 Main Street
Attleboro, MA
Court Clerk's office:  508-222-5900
SAFEPLAN Advocate:  508-226-4015
Serving the towns of Attleboro, Mansfield, North Attleboro and Norton
Dudley District Court
279 West Main Street
Dudley, MA
Court Clerk's office: 508-943-7123 ext 0
Serving the towns of Charlton, Dudley, Oxford, Southbridge, Sturbridge, and Webster
East Brookfield District Court
544 East Main Street
East Brookfield, MA
Court clerk's office:  508-885-6305
SAFEPLAN Advocate office:  508-885-0908
Serving the towns of East Brookfield, Oakham, Paxton. Warren, Spencer, Leicester, Barre, New Braintree, Rutland, Hardwick, West Brookfield, Brookfield
Milford District Court
161 West Main Street
Milford, MA
Court Clerk's office: 508-473-1260
SAFEPLAN Advocate: 508-949-0452 Ext 2181
Serving the towns of Milford, Bellingham, Hopedale, Mendon and Upton
Taunton District Court
40 Broadway
Taunton, MA
District Court Clerk's office: 508-977-4900
SAFEPLAN Advocate: 508-226-4015 Ext 2190
Serving the towns of Berkley, Dighton, Easton, Rayham, Rehoboth, Seekonk and Taunton
Uxbridge District Court
261 South Main Street
Uxbridge, MA
Court Clerk's office: 508-278-2454
SAFEPLAN Court Office: 508-278-6561
Serving the towns of Uxbridge, Sutton, Douglas, Northbridge, Millville, and Blackstone
Westborough District Court
170 Oak Street
Westborough, MA
Court Clerk's Office:  508-366-8266
SAFEPLAN Court Office:  508-366-8266 ext 144
Serving the towns of Westborough, Northborough, Southborough,  Shrewsbury and Grafton
Probate Court Advocate Locations
Taunton Probate Court
40 Broadway
Taunton, MA
Probate Clerk's office: 508-977-6040
SAFEPLAN Advocate: 508-226-4015 EXT 2190
Serving the towns of Attleboro, Norton, Mansfield, New Bedford, Fall River, Dartmouth, Fairhaven, Freetown, Somerset, Swansea, Westport, Acushnet, Taunton, Dighton, Seekonk, Easton, Raynham, Rehoboth, and Berkley