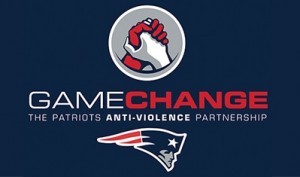 New Hope, Inc. is proud to have been selected by the MA Attorney General's Office (AGO) to participate in its Game Change Program!  Below you will find additional information about the program as a whole and New Hope's role in the process.
If you are interested in receiving similar training as described below at your school, group or organization, please contact New Hope's Education Office at: hsullivan@new-hope.org
---
What is Game Change?
Game Change, or Game Change: The Patriots Anti-Violence Partnership, is a one-of-a-kind collaboration between the AGO, Robert Kraft and The New England Patriots Charitable Foundation. The goal of the program is to build the capacity in 98 area schools to implement effective violence prevention education for students, coaches and faculty.  Game Change is a multi-year, multi-phased initiative with a budget of $650,000 ($500K of which was provided by Mr. Kraft and the Patriots, $150K provided by the AGO).
---
What are the Phases of the Game Change Program?
Phase I
Male and female students, faculty members and coaching staff from participating schools will attend a regional training conducted by Mentors in Violence Prevention (MVP), a nationwide leader in gender-based violence prevention training, run by the Center for Sport in Society at Northeastern University. The training will familiarize participants with the MVP curriculum – which encourages men and women to work together to promote bystander intervention to prevent all forms of relationship violence – so that they may return to their schools and design a program that meets the needs of their school community.
Phase II
Thirty schools from Phase I will be selected to participate in the second phase of the Game Change initiative.  During this phase, schools will focus on developing and implementing a program to prevent interpersonal violence, sexual harassment, sexual assault and heterosexism/homophobia that meets the unique needs of their community.  Each school will form a 30-student committee who will be mentored and supported by a regionally selected Domestic Violence / Sexual Assault (DV/SA) agency.  New Hope, Inc. is the DV/SA agency selected to serve Region 5 (see map below).
---
More Information
To learn more about the MVP curriculum, please click here.
To learn more about the Game Change program, and to view a list of participating schools, please click here.