Calendar Raffle
August 13, 2018 @ 8:00 am

-

September 14, 2018 @ 5:00 pm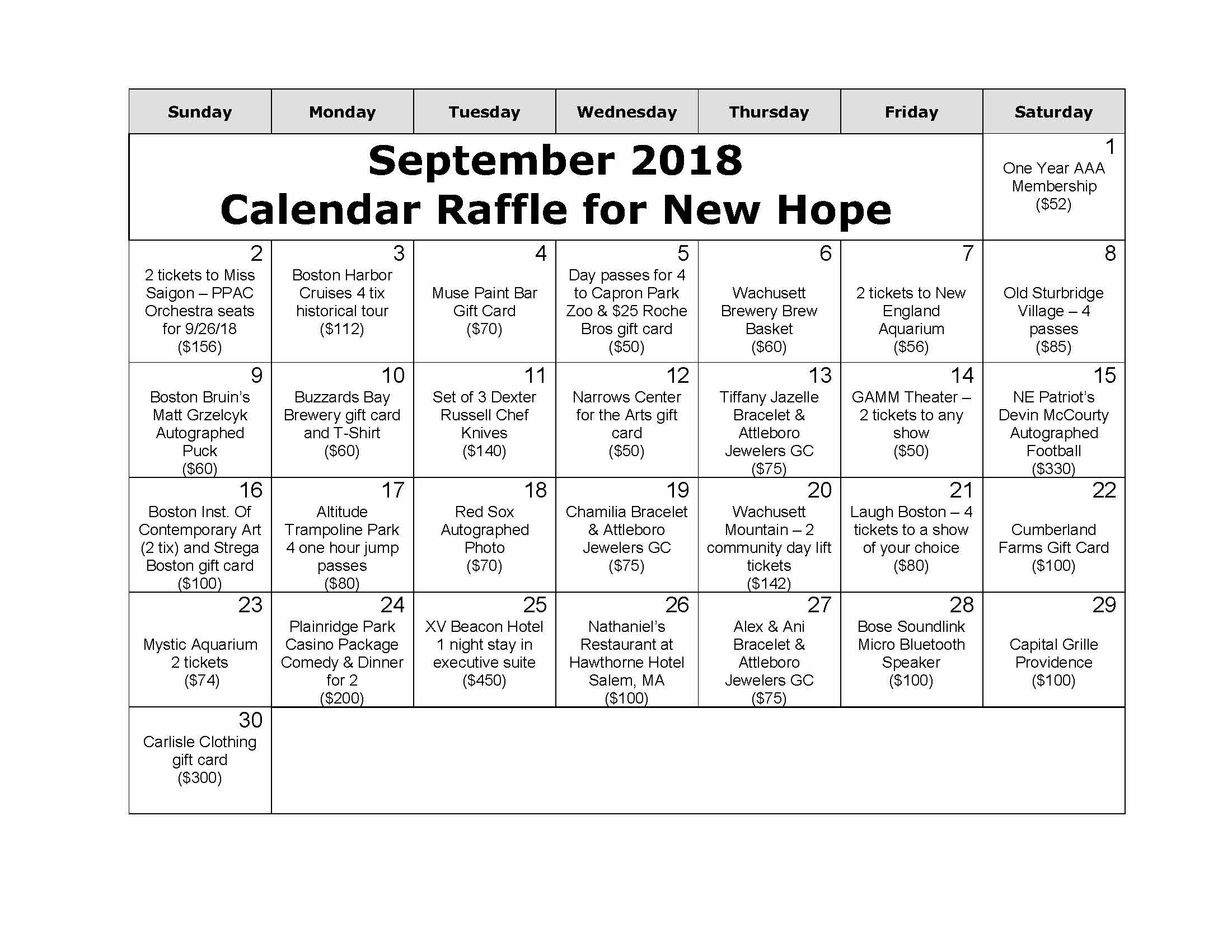 New Hope is pleased to share a raffle opportunity guaranteed to get you excited!  Purchase a raffle ticket for your chance to win 30 prizes valued from $50-$450.  There's a prize sure to please everyone!  Winners will be re-entered for the duration of the event.  A winner will be chosen for each daily prize throughout the month of September.
Tickets are $20.00
Purchase 5 tickets and receive one bonus free ticket!
The CALENDAR RAFFLE is conducted by New Hope, Inc., a non-profit 501(c)(3) corporation.  All proceeds, less expenses, will benefit our work to prevent sexual and domestic violence in our community.
PURCHASE INFORMATION: The purchase price of the calendar is $20.00 which gives you 30 chances to win prizes worth $50.00 – $450.00.  Tickets must be paid for in advance in order to be eligible for prizes.  Tickets will be sold through the first two weeks of the raffle.  If you purchase a ticket after 8/31/18, your chances of winning a prize will be reduced by the number of days in September that have already passed.  
WHO MAY ENTER? Entrants must be 18 years of age or older.  
HOW DO I WIN? The winner will be determined by a daily random drawing.  Winning tickets are re-entered into the raffle, allowing the possibility of winning more than once. The winner need not be present to win.  Drawings will take place beginning September 1, 2018 and ending September 30, 2018. Winning draw receives prize for the corresponding date on the calendar.
New Hope Inc. is not responsible for incorrect, inaccurate, illegible or incomplete entry of information or for lost, delayed, misdirected or mutilated entries. PLEASE MAKE SURE YOUR INFORMATION IS ACCURATE!
GENERAL: The winner agrees to permit his/her name to appear on the New Hope Facebook page as a winner announcement or on our website at www.new-hope.org.
Per IRS ruling, the purchase of raffle tickets is not considered a gift and does not qualify as a tax-deductible charitable contribution. Winner will assume and be responsible for payment of the required federal withholding tax, if any, and all other fees, and local, state and federal taxes.