Sexual Assault Awareness Month (SAAM) Events

2016 Sexual Assault Awareness Month (SAAM) Events
Sunday, April 3:

    Midnight Riders' Trivia Night to benefit New Hope!      (Waltham, MA)


Monday, April 4:

   The Clothesline Project @ Bristol Community College     (Attleboro, MA)


Saturday, April 9:

   SAAM Panel Discussion @ Taunton Public Library    (11am – 12pm)


Tuesday, April 19:

   Wheaton College Wellness Fair     (Norton, MA ~ 11am – 2pm)


Thursday, April 21:

   SAAM Panel Discussion @ Jacob Edwards Library    (Southbridge, MA ~ 6pm)


Fri. & Sat., April 22-23:

  The Vagina Monologues @ Bridgewater State University  (Rondileau Campus Center, Rm. 208 ~ 6pm)


Sun., April 24:

   The Vagina Monologues @ Bridgewater State University    (Library Lecture Hall ~ 2pm)


Wed., April 27:  

 SAAM Panel Discussion @ Taunton Public Library    (6:30pm – 7:30pm)


Thursday, April 28:

   Wheaton College Consent Day     (Norton, MA ~ 1-4pm)


Friday, April 29:

   Clothing Drive for New Hope @ Briggs Garden and Home   (295 Kelley Blvd., N. Attleboro ~ 11am-2pm)
---
Interested in learning more about sexual assault prevention?
The National Sexual Violence Resource Center (NSVRC) is the premier resource for the latest information on sexual violence prevention and tools to keep you and your family save.  Click here to learn more.

Like New Hope's Facebook Page

(/NewHopeInc)

to receive a "Tip of the Day" throughout the month of April.
---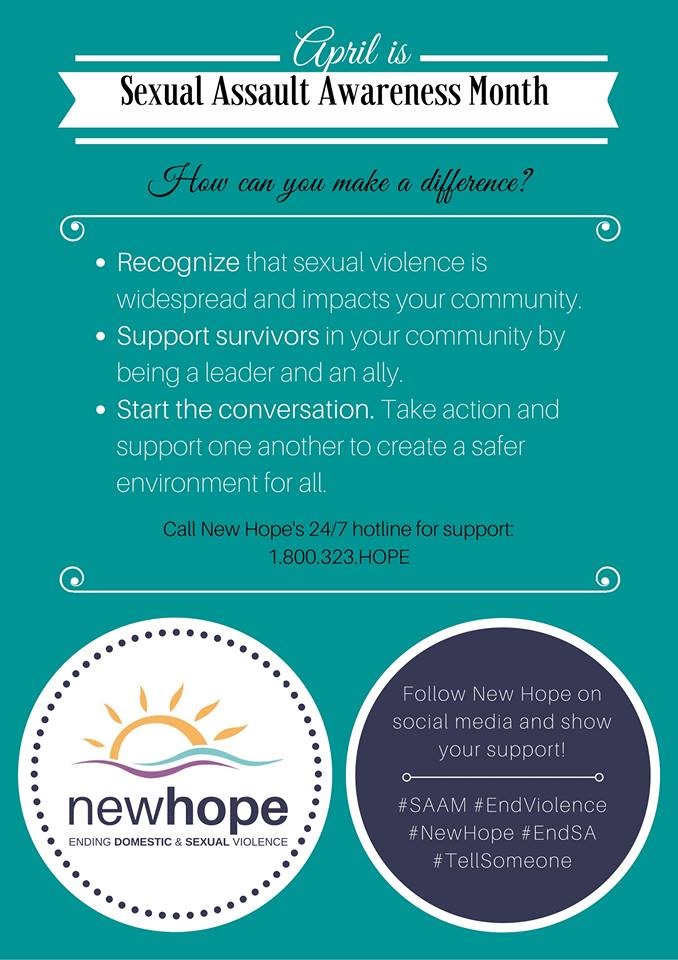 ---
"All it takes for generosity to flow is awareness. By actively pursuing awareness and knowledge,
we can make choices that cause less harm and greater good to others in the
global community of our shared earth."
Zoe Weil